The test kits, valued at over $1.1M, are for use by students on all USF campuses
Sept. 23, 2022
Tampa-based health care startup Verséa has given thousands of diagnostic COVID-19 test kits to the University of South Florida for use by students on all three campuses. This gift – valued at over $1.1 million – aligns with Verséa's and USF's shared commitment to supporting the development and health of the Tampa Bay community.
"Verséa is a Tampa founded and based business and we both recognize and value the important role world-class educational institutions like USF play in the future of the region," said CEO and co-founder Sean Fetcho. "As a high-growth integrated health care company focused on innovative therapeutics and diagnostics that help improve people's lives, we are happy to be able to support the safety and well-being of USF students, faculty and staff."
"USF is committed to the health and well-being of our students, and we are always interested in creative ways to achieve that goal," said Donna J. Petersen, USF's chief health officer.  "Verséa's generous gift of COVID-19 test kits will help us help our students take care of themselves and protect others around them."
Petersen, who also serves as senior associate vice president of USF Health, interim associate vice provost for student health and wellness, and dean of USF's College of Public Health, added that the university's Student Health Services team is partnering with offices across the three campuses to get these home test kits into students' hands to quickly determine if any symptoms they are experiencing are due to COVID-19.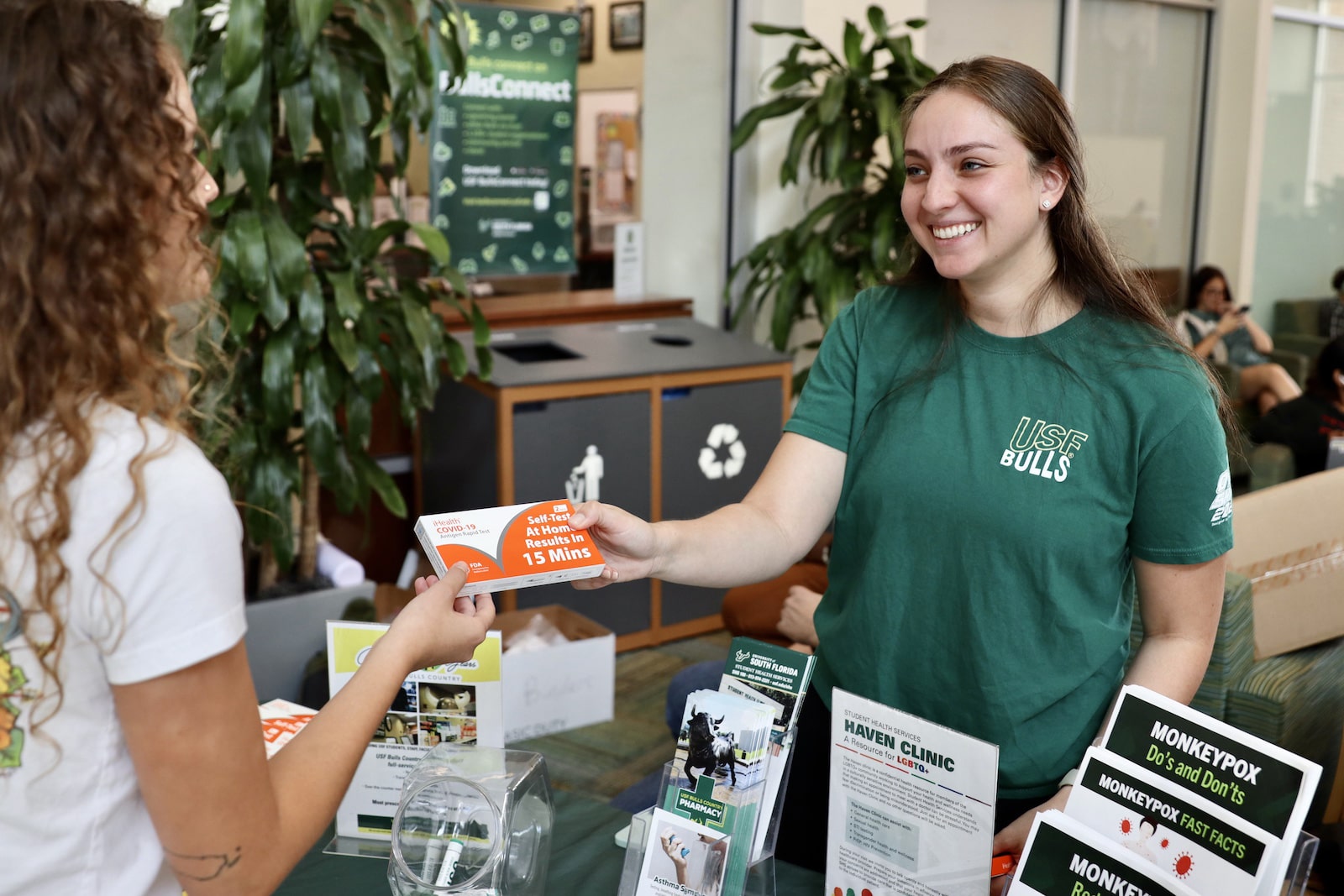 "If positive, students will know immediately that they need to stay home, seek guidance from Student Health, notify their instructors and avoid social gatherings," she said. "All of this will facilitate access to needed care and help prevent the further spread of COVID-19 on our campuses. We are grateful for this gift as it helps us keep our campuses safe."
"These test kits will be a valuable resource, especially during cold and flu season, so our students know if they have COVID-19," said Dr. Joseph Puccio, executive and medical director of USF Student Health Services. "With information, they can determine if they need to isolate and not infect their classmates and faculty or staff. Test kits are key to promoting community health."
Verséa has rooted itself in the greater Tampa community and prides itself on being an innovator and leader in medical diagnostics and therapeutics. The company's growth has been fueled by locally recruited and cultivated talent filling critical roles, along with national leaders in health care relocating to the area to work at the company's Tampa headquarters.
Distribution of the test kits began this month and continues through numerous groups on USF's Tampa, St. Petersburg and Sarasota-Manatee campuses. Although the focus is on student locations and programming, the kits will also be available to faculty and staff upon request.
"We are grateful to Verséa for this gift that helps keep our students, as well as our USF and Tampa communities, safer and healthier," said USF Foundation CEO Jay Stroman.